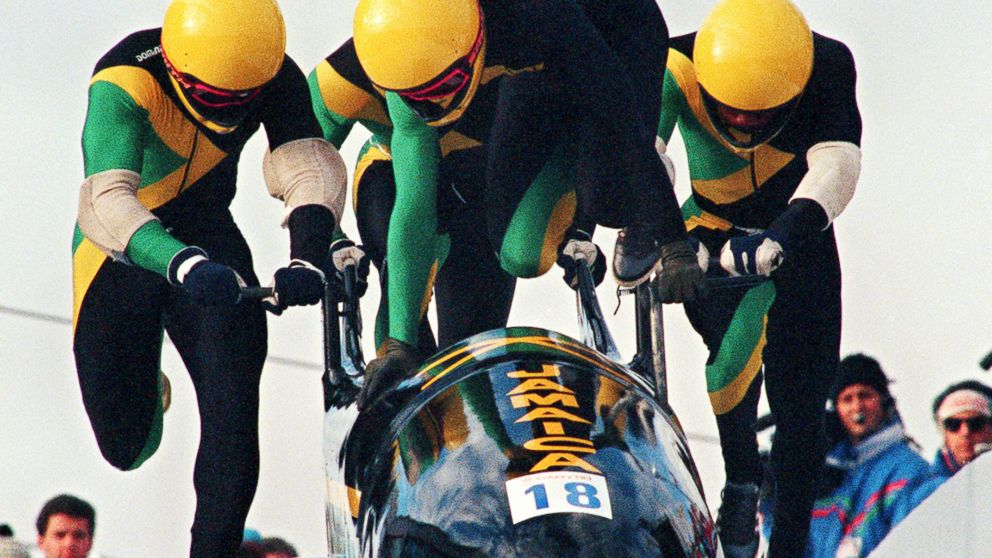 It is a sporting theme again, inspired by the thrills of the Winter Olympics. Let's hark back to the 1988 Calgary Games, memorable since British involvement started to impress outside the ice-rink. Eccentricities of Eddie 'the Eagle' Edwards, our first Olympic ski-jumper matched Martin Bell's efforts in the men's downhill. Even our bob-sledders were competitive.
One story, now globally famous, concerns the Jamaican soldiers formed into an unlikely bobsleigh team on a shoestring budget, qualifying in 1988 as the first tropical nation at the Winter Olympics. American expats George Fitch and William Maloney were inspired by watching Jamaican push-kart racing and had initially raised the idea. At the outset, one of the eventual Jamaican team members, Devon Harris, thought the idea was ridiculous. Another, Dudley Stokes, only got involved because his superior officer in the military told him to participate.
The story was largely fictionalised for dramatic effect in the comedy film 'Cool Runnings'. In reality the team were warmly welcomed by co-competitors and enjoyed the support of other national teams to access equipment ahead of the Games. The Jamaicans performances improved during the Games programme, but unfortunately they crashed in their final competitive run so did not reach the final. However the precedent had been set and Jamaican teams have qualified for several Winter Games over subsequent decades including the Sochi 2014 Olympics.
So what can we learn? How does this relate to our ideas for change and improvement?
Just do it – and keep trying. If things don't quite work, don't give up. George Fitch failed to recruit Jamaican athletes, so asked the Jamaican military to find volunteers.
Other people respond to your initiative. Jamaica's competitors welcomed the team as co-athletes, whilst the Olympic crowds were fanatically enthusiastic about the team's efforts.
People can be inspired – your team may have skeptics and cynics, but they can all be inspired by purpose and vision of what is possible and what they can do.
Learn from disappointments. Since the crash of 1988, Jamaica have performed at a high level, beating established winter sport nations such as France, the USA, Russia and Canada.
The unlikely can become the norm. A later Jamaican team-member, Lascelles Brown, married a Canadian, and subsequently won medals for Canada at two Olympic Games.
Seize the opportunity – even unlikely ideas can set a new way of doing things. Small initiatives can have a lasting effect. It just takes the effort to start the ball rolling…
Links:
BBC Sport (2014) Jamaica's 'Cool Runnings' bobsleigh team in 1988, Sochi 2014http://www.bbc.co.uk/sport/0/winter-olympics/25144672
Evanovitch (2005) Interview with Devon 'Pele' Harris Jamaica Bobsled Team Member, Jamaica Primetime. http://www.jamaicans.com/articles/primeinterviews/interviewdevonharris.shtml
Jones E. (2014) Va. Mayor's Little Known Link to Jamaican Bobsledding, NBC Washington http://www.nbcwashington.com/news/local/Va-Mayor-Cool-Connection-to-Jamaicas-Bobsled-Team-243973451.html