There's a chance that this year you might be asked to self-isolate because either you, or one of your housemates or close-contacts has tested positive for SARS-CoV-2.
If you have symptoms or have tested positive you'll usually need to isolate for at least 10 days.
If you live with someone who has symptoms or has tested positive, or if you've been told to isolate by NHS Test and Trace, then you need to isolate for 14 days.
There's lots of local guidance available on what to do if you develop symptoms. I highly recommend this page for any medical questions you might have.
Isolation is one of the most important and effective tools we have at containing the spread of infection, but it can be challenging. I want to focus on how to manage this period.
How to manage during self-isolation.
When asked to isolate, you shouldn't go out, not for coffee, not to the shops, not to exercise, and you shouldn't have anyone round. Pretty restrictive eh? So, let's focus on what you can do in the space you've got available to you.
Building a routine.
We often build a routine by going outside – i.e. to teaching, to work, to the shops or the gym etc. So, it's a good idea to build a schedule into your day to try and replicate this indoors (I've talked about scheduling elsewhere). A mixture of activities is best. If you feel well, then carry on joining in with scheduled online teaching, and build in some study slots too.
It's equally important to build in time for fun stuff, and time with others too. So your schedule shouldn't be too work heavy.
Connection.
Make time to call people. Video calls are an excellent option as seeing a loved one's face brings extra elements to the communication, and these days there are many free platforms to choose from. Make sure to talk about something other than Covid, and don't be afraid to ask for a change of subject if you are getting stuck on it. You can also use calls to do things you'd normally do with friends and family. Ditch your PJs and dress up for a dinner date.  Watch a film or some telly, do a quiz, start a book club, hold a knitting circle. The only limits are your imagination.
If you are isolating in a household, you need to try and maintain physical distance with each other and continue practising good hand hygiene. This can be tricky in small shared spaces like kitchens, but you can still enjoy a meal together. Make a chef rota, serve up the chow either at the bedroom doors, or 2m apart in a big kitchen. Rate the designated chef on taste, presentation and creativity, but remember to be kind.
Move.
Make sure you change your position throughout the day. Get out of bed and use your desk for study, and make sure to move about between teaching and study blocks. Do your social activities in a different space if you can.
Do some exercise. Yoga can be good for small spaces, or you can adapt gym routines to body weight workouts. There's a nice list of accessible workout channels here.
If you miss the outdoors, make sure to keep your window open and look at the sky. Get some seeds delivered and try growing something. If you're reading this in advance, get some houseplants, or stick some leaves up on a notice board. You can play the sounds of the great outdoors by listening to Noisli in the background.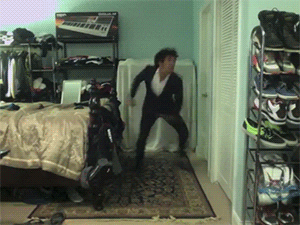 Loneliness.
You don't have to be living alone to feel lonely. Even in a flat full of new mates you can end up missing old friends and family. You can make your environment feel homely by putting up pictures of your loved-ones. If it feels too quiet you can listen to chatty things like talk radio or daft podcasts.
Gaming gets a bit of bad press but in moderation this can be a fantastic way to escape the confines of your room, and there is more opportunity that ever to connect with people around the world while you play. You can read one man's positive story about gaming here.
Practice random acts of kindness.
The period we are living through brings unprecedented challenges. We will all be reacting to it in our own way, and sometimes it will be difficult to understand why someone is behaving in a certain way. If things feel tense, try to walk away. Give yourself the space to cool down, and respect that people may feel differently to you: bored instead of anxious; careless instead of hyper-vigilant. If you still can't speak to one of your flatmates, make them a cuppa.
Try and reach out to others who might be struggling. Calling someone you think might be lonely is a great way to meet the needs of both of you. If you've got a thing for stationary, try writing a letter. I still have a couple of boxes of letters in the attic that are a treasure to read years later.
Finally, give your laptop or phone a break. Seriously, its been working hard. Turn it off for a bit, take a break from the screens, read a book.
Further help.
If you are living on campus then the uni staff will be checking in with you during this period, to make sure you are safe and well. But please, don't be afraid to reach out for help if you need it.
Wherever you may be isolating, the staff at Student Support and Wellbeing are still here for you. Details of how to reach us are here.