Well, it's definitely a very busy time for the recruitment team! While Emma was enjoying the water taxis of Venice, I have been travelling around the Baltic states and seeing the last of the summer sunshine in Madrid and Barcelona.
It was the university's first venture into the Baltic market and it was a very enjoyable and worthwhile first experience! Russell and I set off for Vilnius (Lithuania) first and exhibited at an extremely busy education fair in the nearby city of Kaunas. The event was very lively with enthusiastic students  who were well researched and really made the most of talking to us about the courses we offered. Many of them were interested in Arts which was a refreshing change from Business, Psychology and Law! Our arts/design based Architecture course was particularly appealing and we received a lot of enquiries about the programme. After the Vilnius fair the day after, we travelled on a coach to Riga (Latvia) with the other university representatives which was good fun and, after 4 hours, we arrived at the hotel. It is a really interesting place to visit and we had some spare time in the afternoon to explore! I tried the delicacies while Russ enjoyed a very large steak and this perked us up again after our day of travelling! The fair in Riga was also extremely busy with a constant stream of students throughout the day. As in Kaunas, the students were enthusiastic and proactive in their research. We had a lot of enquiries about accommodation and living costs and our location in comparison to London was especially attractive to them! It was a long but very worthwhile event with good quality students. Even though the fair ran over the weekend, we were still chirpy and looking forward to talking to prospective students (see chirpy face below:)
Finally, our last stop was beautiful Tallinn! The bus to Tallinn looked like something out of the 1920s and was driven by a Russian man who spoke no English. Driving through Latvia into Estonia in the late hours of the evening (with only a handful of other uni reps!) was very surreal. We made it in one piece though! The city is stunning and definitely worth a visit, we were all very enthralled by it. The fair in Tallinn was much smaller as there were only 6 universities left at the end of the tour (lightweights!) This did mean that we got more students coming to the stand as there were only a handful of us left to talk to. Students could sit down at the stand this time which made it feel more relaxed and we were able to talk at length about their course options.
A couple of weeks later I was off to Madrid and Barcelona.This event was run by the British Council and it was especially busy in Madrid. The British Council told us that the increased interest this year could be due to Brexit and the curiosity surrounding fees (which I was asked about a lot and there was quite a lot of anxiety surrounding it). However, because of Brexit, there were lots of press coverage and Anthony Manning , the Dean of Internationalisation, was also at this event to speak about Kent's perspective on the future of HE funding on Spain's national TV channel. Anthony snapped me mid-conversation talking to a group of students which never makes for a flattering photo (see below for evidence of unflattering expression!). As we didn't have much information about funding after 2016/17 entry, I had to try and allay any anxieties and encouraged students to keep up to date with any funding arrangements that are revealed in the coming months. However, I strongly emphasised that, as the UK's European University we very much value and welcome EU students! In both Barcelona and Madrid the majority of students were studying IB so, the quality was very good and they were all able to pick courses with more flexibility due to the breadth of subjects they were taking.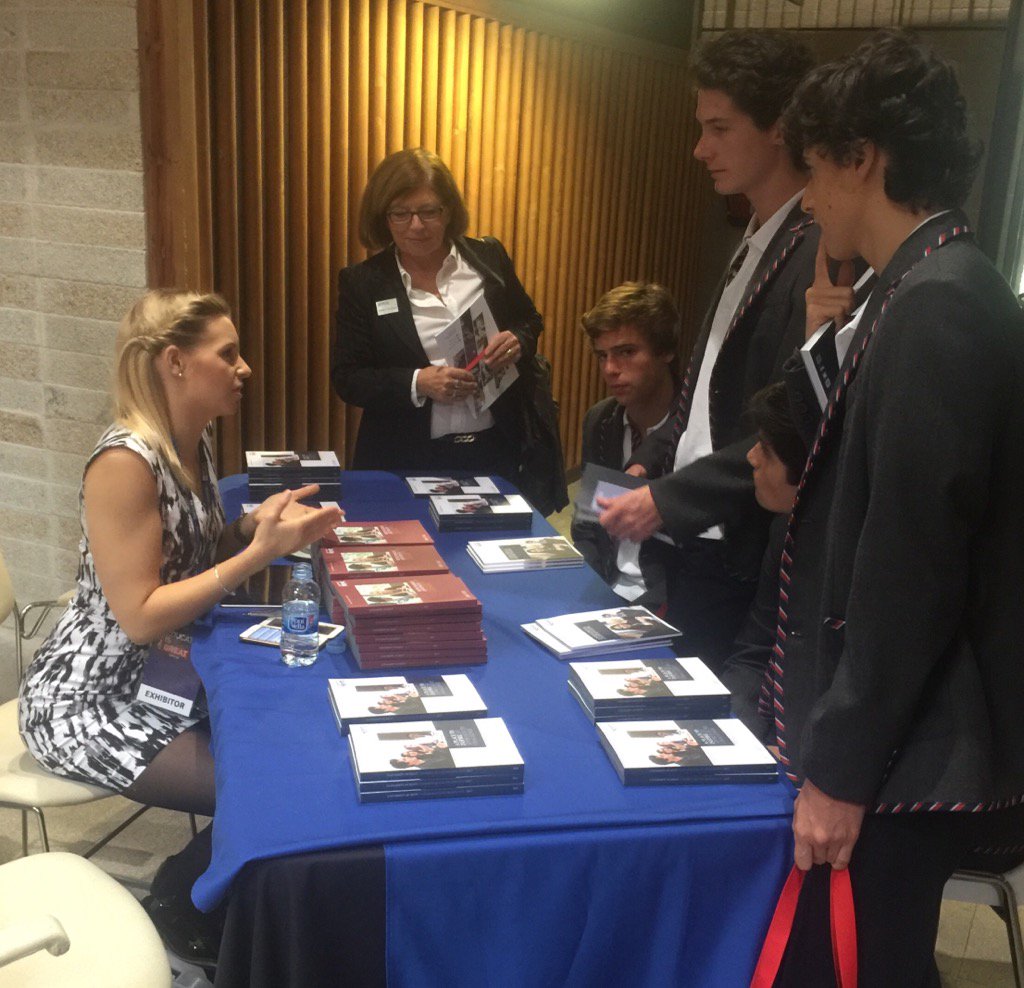 I'm back home for a week and attending a few Higher Education school fairs and talks but, I'm getting ready for some more sunshine! Next stop…Greece and Cyprus.