An update on our project serving the needs of research works that are not journal articles, books and book chapter, or conference papers.
Remaining true to the interdisciplinary tradition at the University of Kent, Information Services have been looking at how we support the preservation, recording and dissemination of research outputs that are not expressed as text, or created in a digital format.  Mainly these works are the result of practice research and creative disciplines, but works from other traditions and disciplines will also benefit from this project.   First, we looked at how we were representing works that were not journal articles, books or book sections, or conference papers.
What we found…
In the library, we realise that our repository systems and processes, and digitisation offer, could better meet the needs of our creative researchers and the increasing numbers who express their research in media other than Articles, Books and Conference papers. Practice Research works arise from the synergy of research and practice.  They are expressed in multiple formats; often in combination and are indistinct from their data, requiring specialist description, preservation and discovery.  They originate in any discipline, their essential characteristic being that they do not sit well within traditional publishing formats, lifecycles, or even relationships to their creators.
The latest guidance for REF 2021 requires that assessment of all research outputs are treated equally[1].  Like most UK higher education institutions, our research infrastructure and external reporting systems are designed around the characteristics of the publication lifecycle. The repository infrastructure is based on an EPrints platform and while it is capable of supporting any type of research output and our policies do not discriminate, the metadata schema, workflows and even the language of the fields and guidance all predicate traditional publication structures. These structures are based on scientific research presumption and the world of print journalism. Conversations with our practice researchers revealed that the layout and language of our systems present barriers. They felt their research output was not served by them and was of less interest to wider authorities like UKRI or Research England.
They felt that in order to be taken seriously their research needed to be translated into academic journal articles or books – even where this compromised expression and distanced the output from its research context.  For instance: where a project results in an interactive web resource this should be recorded as the research output. The effect of this is that even in an interdisciplinary University only 3% of the works recorded on the publications repository are not articles, books or journals.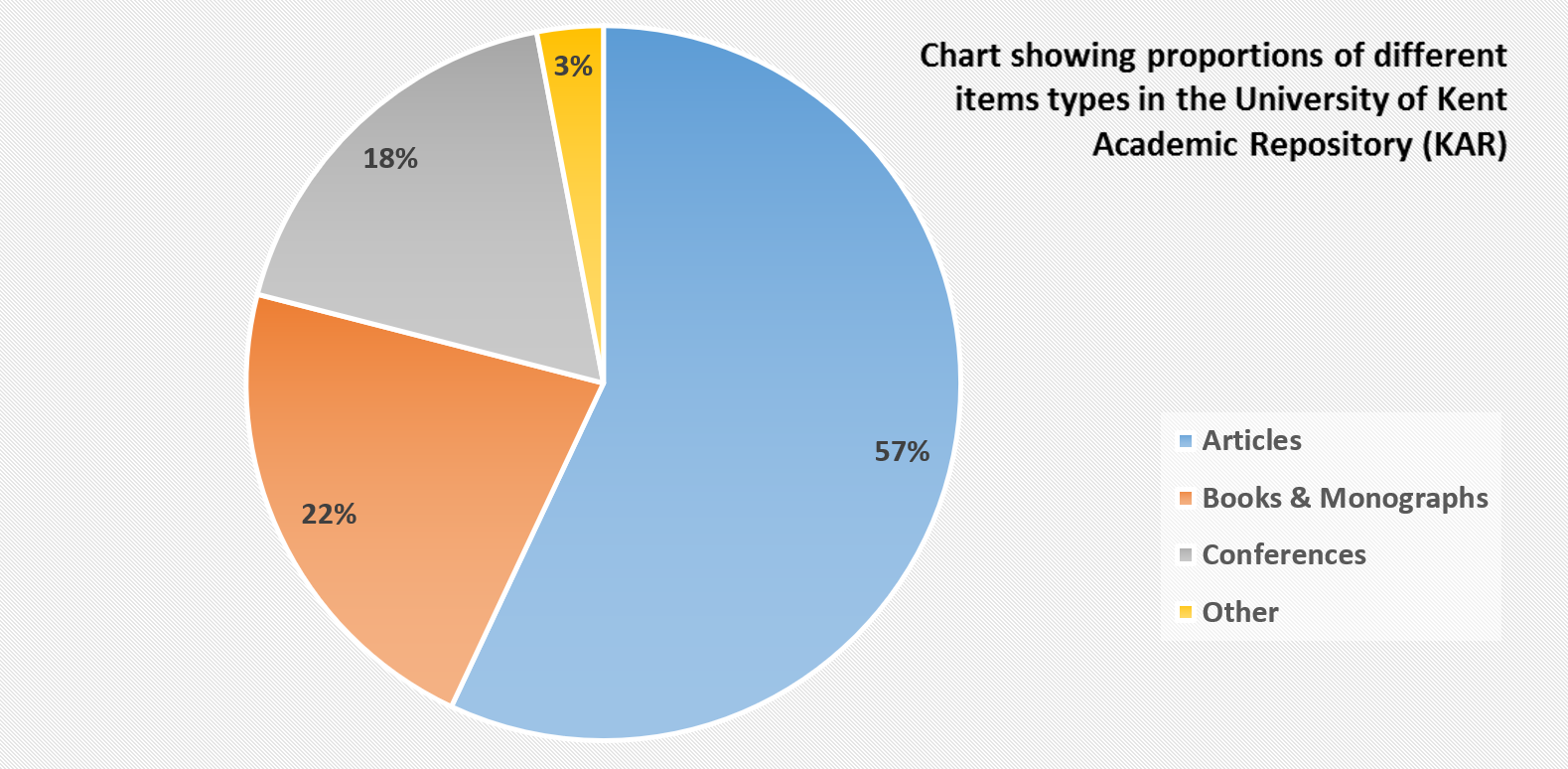 We needed to reverse this perception that scholarly communications and repository service systems are positively hostile to outputs that are not articles, books or conference papers.
What we decided to do…
We set out to design and deliver services and systems more attuned to the needs of research practice, allowing us to support these outputs to their full potential. We started by:
Talking to academics whose research fitted the criteria and/or were not well represented on KAR
Establishing next steps based on their needs; system and tool developments, clear guidance for analogue to digital formats, and case study examples.
Exploring best practice management of repositories and research data in the creative and applied arts, including; policy, metadata and workflows, vocabulary options, case studies, and advocacy materials.
Visiting creative institutions, specifically those who contributed to KULTUR
Investigating outcomes of Kultur integration, the digitisation services on offer, website preservation methods, submission of portfolios for the REF, and the benefit of networks such as the Practice Research Action Group (PRAG) and the Humanities Special Interest Group of ARMA.
Researching UK and international approaches to capturing practice research
Gap analysis of best practice approaches to policies, definitions, digitisation offers, research data management templates, and repository advice and features.  Assessment of the Excellence in Research for Australia (ERA) research evaluation framework.
Evidence from this is helping us to develop our:
Service offer for support and preservation of practice research
Review of the academic and data repositories policies and metadata
Guidance for researchers
Inclusive language practices across our services and systems
And is helping to inform a number of projects across Information Services:
Reviewing repository developments and structures in the short, medium and long-term
Reviewing the language we use around research and research outputs. We are moving away from science and publishing -centric terms toward more inclusive ways to describe research preservation and dissemination.
Establishing an understanding of the University's requirements for a digital image library service design
Mapping the research data landscape at the university; what are our researchers creating, what are they using and where are they depositing their data?
Enabling research-led teaching with case studies
What we have achieved…
This project will be concluding in the autumn with recommendations for further action.  The formal outcomes for this project include:
A survey of academic researcher needs at Kent regarding the recording, preserving and supporting of all research outputs, including whether outputs would benefit from digitisation and what form would this take
A comparison report of best practice at other institutions.
Gap Analysis. Matching what we are doing against potential areas of developmental areas
A definition of our offering and an iterative process map to ensure we are not excluding any individual researchers outputs.
A guide or webpage designed specifically for creators of non-text or non-digital outputs, to include a glossary mapping of terms.
A list of prioritised development requests for our repository services.
In the course of the project, we have been able to meet and discuss research requirements with scholars whose research is not best expressed in books, journals or conference papers. As a result, we have developed a clearer understanding of the challenges these researchers face when seeking to preserve their work.  Most importantly, we have become far more aware of the way our own language and viewpoint is loaded toward science and literary scholarship and how bias of this kind can cause some researchers to feel excluded from systems and administrative support geared around publications and REF mandates.
Our project will close at the end of November when we will be publishing our findings and start making the recommendations a reality. At that point, we will start to evaluate our project and ensure that the changes we make are in line with what our researchers really need from us.
If you would like to get in touch, please email The Practice Research Team at ResearchSupport@kent.ac.uk
This the second blog post about the project. The first blog post is here Support for research outputs beyond books and articles
[1] https://www.ref.ac.uk/publications/2018/draftguidanceonsubmissions201801.html
This post was a collaborative effort between members of the University of Kent Templeman Library: Helen Cooper, Elspeth Millar, Katie Edwards, Rosalyn Bass, Clair Waller and Josie Caplehorne