Your university accommodation will be your home for the months ahead, so of course you'll want to know what it's like!
If you haven't had the chance to look around the campus accommodation in person you can use the university's virtual tours to check out what your room and the communal areas will look like.
But no matter how nice your room is, it will always feel a bit sparse when you first walk in. Don't worry! Once you've unpacked it will feel much more like home. Plus, if you follow these three suggestions, your room is guaranteed to feel as personal as possible:
1. Bring stuff to put on the walls
Posters, photos, a calendar, wall hangings, or even coloured-paper circles, can make your room feel personal, stylish, and homely! We recommend using command hooks/strips so you don't damage the walls, but apart from that, go wild!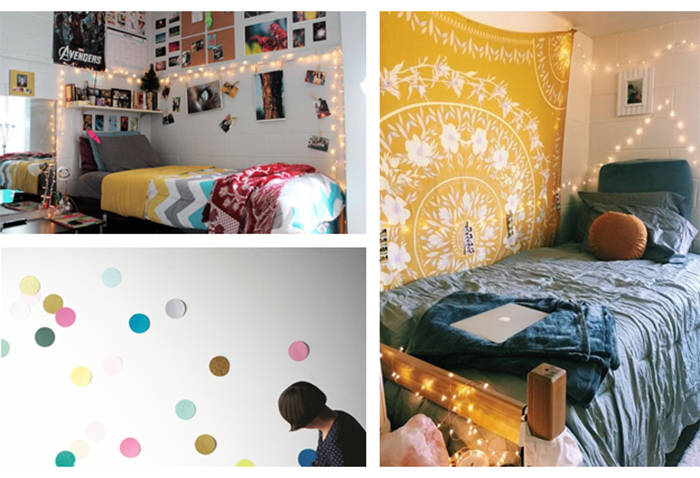 2. Buy some extra soft-furnishings
Cushions, rugs, throws: They'll keep you warm and cosy, add some colour and patterns, and give your room a touch of your personality.
3. Get some fairy lights
We can't get enough of fairy lights! They make every room feel magical. Why not combine them with your favourite photos to make something like this: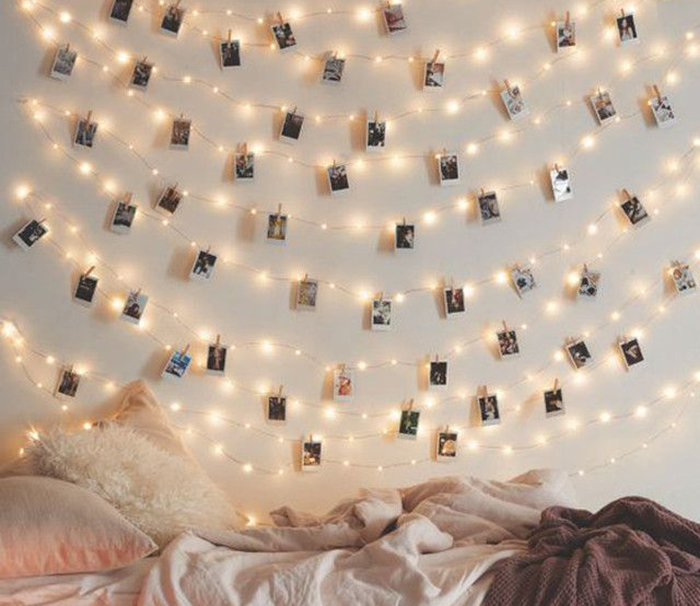 ---
Getting on with your housemates
You are also going to be living with new people! This is a great opportunity to make new friends, but it isn't without its challenges. If you know where you will be living, why not try to get in touch with your housemates by posting in the Official University of Kent Freshers Facebook Group.
As for actually living with people, make sure you are a great housemate by…
1. Getting a doorstop
Keeping your door open whilst you are in is a great way to get to know your housemates. Get yourself a doorstop and use it during your first week!
2. Doing your washing up promptly
You've come in from a long day of lectures, you just want to cook dinner and chill out, and you find the kitchen and sink filled with a housemate's dirty pots, pans and crockery: There is nothing more annoying! When you've finished cooking do your washing up for a happy flat/house!
3. Talking about sharing food
Whether you want to share the responsibility of cooking, get a takeaway, or alternate buying milk, talk to your housemates! Hopefully you'll be able to arrange a routine that keeps everyone happy (Never steal someone's milk!).
4. Breaking the ice
Bring some biscuits or a pack of cards, knock on some doors, and invite your flatmates to join you in the kitchen. Introduce yourself, have a chat, laugh and enjoy a drink or a game together.
5. Being kind
With so many fun things for you and your flatmates to do it's easy to get swept off your feet but remember to look out for each other. Invite your flatmates to join you at an event or grab coffee, be friendly and talk to each other! Remember you all live here together, and everyone is different, so be considerate.
6. Finally be brave
Meeting your new housemates can be both exciting and nerve-wracking, but remember everyone is in the same situation! Go introduce yourself to your flatmates or neighbours when they arrive, go to that event social you aren't sure about, and throw yourself into the BIG Week (preferably all three). Ultimately have fun, enjoy yourself and get involved.