Home
How might the future development of welfare in Europe be governed by ordinary people?
Read more
This international research is being led by thirteen researchers from five institutions
Read more
Welcome !
Welcome to the "Welfare State Futures: Our Children's Europe" (WelfSOC) website. This innovative NORFACE-funded project explores the aspirations, assumptions and priorities that govern the ideas of ordinary people about the future development of welfare in Europe. Please explore our site and do not hesitate to contact us on Twitter, by e-mail or subscribe to our newsletter.
News
WelfSOC research presented at the Policy Network 'Progressive Britain' conference today
Peter Taylor-Gooby presented his Norface research at the Policy Network 'Progressive Britain' conference today, to an audience of politicians, journalists and academics. Using material from the Democratic Forums which form the central part of the project, he argued that the challenge for the left is to build trust among older voters as Corbyn has among the young and pointed to some of the policies which might achieve this.
The Ljubljana meeting of our WelfSOC team
The research team met in Ljubljana on June 8 and 9 to talk about work. Our first book After Austerity will be published by Oxford University Press on 11 August 2017. We're working on the second book, which will discuss our research using innovative Democratic Forums in detail. The work shows how this approach contributes a much more detailed and nuanced picture of welfare state attitudes to that provided by conventional research methods. We also discussed our plans for articles, a special issue of Social Policy and Administration​, our papers for the ESPAnet conference in Lisbon in September and other activities. Warm thanks to Maša Filipovič Hrast and Tatjana Rakar for making the meeting such a success.
National conference "The future of the Slovenian welfare state"
The Slovenian WelfSOC research team held a national conference "The future of the Slovenian welfare state" on 24th of May 2017 on the Faculty of Social Sciences, University of Ljubljana. The goal of the conference was to disseminate key findings from the project on people's attitudes toward the welfare state futures and stimulate a discussion on the main concerns of social policy such as inequality and poverty, challenges on the labour market and intergenerational solidarity in Slovenia. Conference began with an opening speech of the Slovenian Minister of Labour, Family, Social Affairs and Equal Opportunities Anja Kopač Mrak and the Dean of the Faculty of Social Sciences Rado Bohinc. The main project findings were presented by project leader Maša Filipovič Hrast, which was followed by round table discussions on inequalities and poverty, intergenerational policies and labour market issues. Several known experts, representatives of civil society organisations and high government officials of the Ministry of Labour, Family, Social Affairs and Equal Opportunities and Ministry of Health joined the discussion. The conference was attended by academics, policy makers and general public.
WelfSOC presents new findings and papers in Gothenburg (22-24 February 2017)
The WelfSOC team attended a NORFACE Welfare State Futures workshop in Gothenburg on 22-24 February 2017. More information about this workshop is available on the official NORFACE WSF website – full programme available here.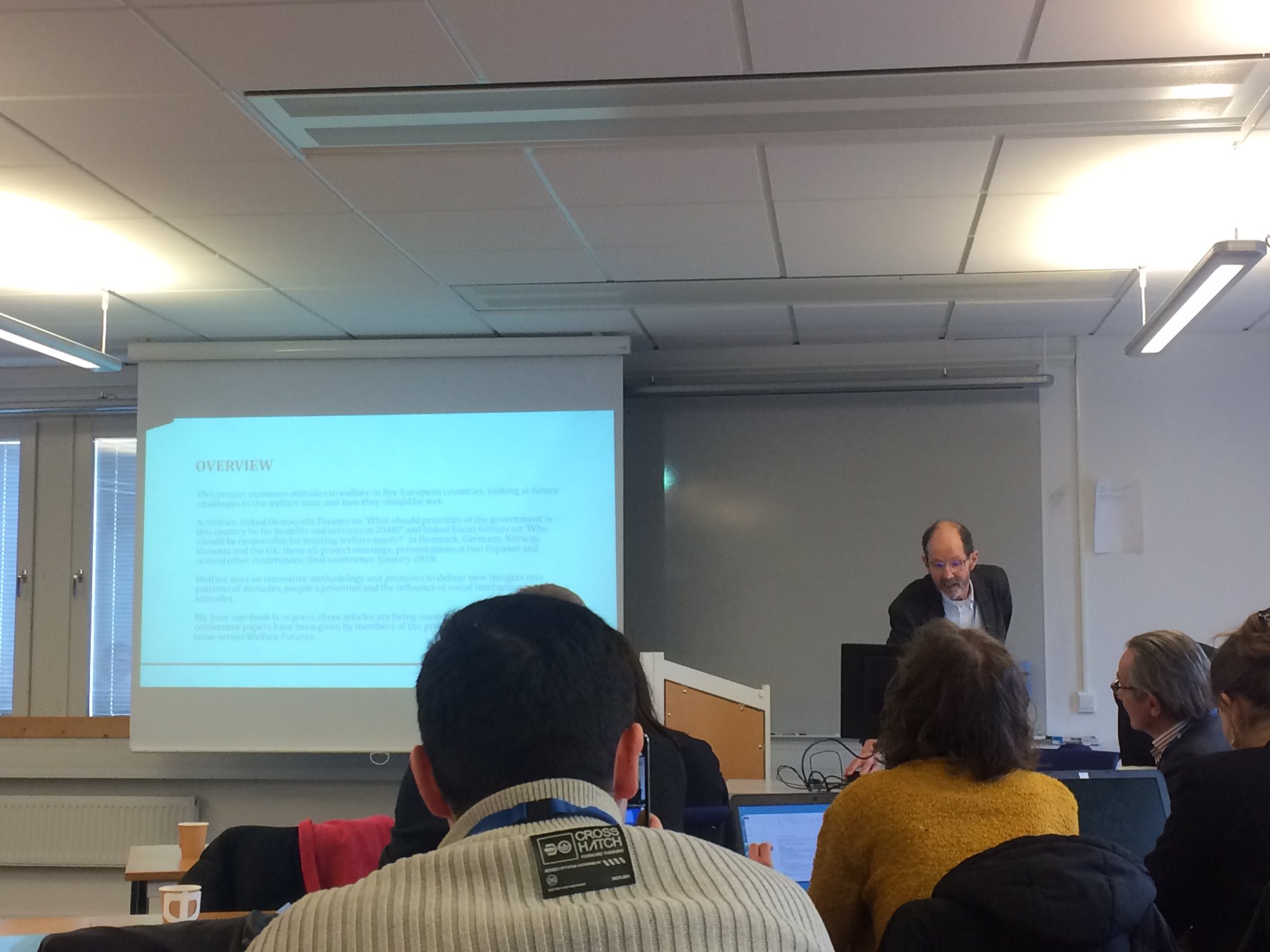 Professor Peter Taylor-Gooby, Project Leader, presents the WelfSOC project
All research teams have now finalised the preliminary analysis of the democratic forums, which were held in late 2015. The analysis of Focus Groups, held in September/October 2016, is under way. A total of six papers were presented by WelfSOC researchers:
How do ordinary citizens morally assess ongoing changes of the universal welfare state? An analysis of data from deliberative forums in Denmark – Mathias Herup Nielsen (Aalborg University, Post-Doctoral Researcher)
Public support for the social rights and social obligations of the unemployed: two sides of the same coin? – Tijs Laenen (Leuven University, Associate Researcher)
"He is the future of the welfare state: diligent, capable…" – How citizens perceive and justify the relative deservingness of needy groups – Katharina Zimmermann & Jan-Ocko Heuer
Attitudes towards future policies for the elderly: a comparative analysis of four welfare states – Maša Filipovič Hrast, Bjørn Hvinden, Kjetil Klette Boehler, Tatjana Rakar, Mi Ah Schøyen and Vegard Svagård
Does political discourse matter? Comparing party manifestos and policy preferences on immigration and welfare in the United Kingdom – Benjamin Leruth
Democratic Forums: their contribution to attitude research – Peter Taylor-Gooby
WelfSOC mentioned in The Guardian (01 February 2017)
In his most recent opinion piece, Aditya Chakrabortty interviewed Professor Peter Taylor-Gooby about our WelfSOC project. You can read his article here.
2016 Annual ESPAnet Conference: "The lost and the New Worlds of Welfare"
The five research teams involved in the WelfSOC project will present papers at the 2016 annual ESPAnet conference, which will take place in Rotterdam on 1-3 September 2016. These papers will be presented on Thursday 1 September, from 4.15 to 6pm and Friday 2 September from 4.30 to 6.30 in room Praag as part of Stream 20 (Innovative Methods and Attitudes to the Future of the Welfare State), convened by Peter Taylor-Gooby and Heejung Chung (University of Kent).
The papers present early research findings from the WelfSOC project, analysing data from democratic forums held in five countries. Papers can be downloaded below: