Home
How might the future development of welfare in Europe be governed by ordinary people?
Read more
This international research is being led by thirteen researchers from five institutions
Read more
Welcome !
Welcome to the "Welfare State Futures: Our Children's Europe" (WelfSOC) website. This innovative NORFACE-funded project explores the aspirations, assumptions and priorities that govern the ideas of ordinary people about the future development of welfare in Europe. Please explore our site and do not hesitate to contact us on Twitter, by e-mail or subscribe to our newsletter.
News
WelfSOC presents new findings and papers in Gothenburg (22-24 February 2017)
The WelfSOC team attended a NORFACE Welfare State Futures workshop in Gothenburg on 22-24 February 2017. More information about this workshop is available on the official NORFACE WSF website – full programme available here.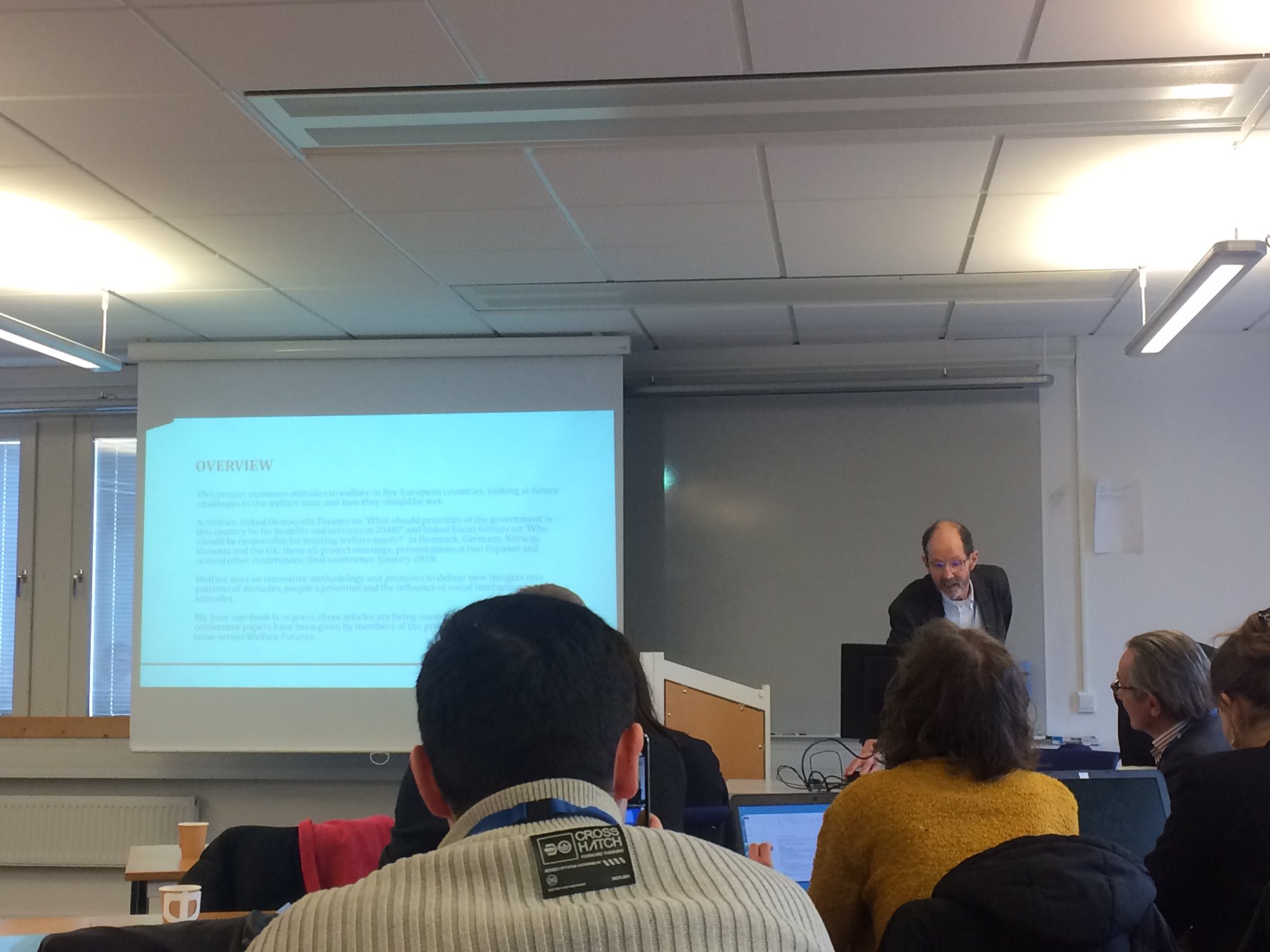 Professor Peter Taylor-Gooby, Project Leader, presents the WelfSOC project
All research teams have now finalised the preliminary analysis of the democratic forums, which were held in late 2015. The analysis of Focus Groups, held in September/October 2016, is under way. A total of six papers were presented by WelfSOC researchers:
How do ordinary citizens morally assess ongoing changes of the universal welfare state? An analysis of data from deliberative forums in Denmark – Mathias Herup Nielsen (Aalborg University, Post-Doctoral Researcher)
Public support for the social rights and social obligations of the unemployed: two sides of the same coin? – Tijs Laenen (Leuven University, Associate Researcher)
"He is the future of the welfare state: diligent, capable…" – How citizens perceive and justify the relative deservingness of needy groups – Katharina Zimmermann & Jan-Ocko Heuer
Attitudes towards future policies for the elderly: a comparative analysis of four welfare states – Maša Filipovič Hrast, Bjørn Hvinden, Kjetil Klette Boehler, Tatjana Rakar, Mi Ah Schøyen and Vegard Svagård
Does political discourse matter? Comparing party manifestos and policy preferences on immigration and welfare in the United Kingdom – Benjamin Leruth
Democratic Forums: their contribution to attitude research – Peter Taylor-Gooby
WelfSOC mentioned in The Guardian (01 February 2017)
In his most recent opinion piece, Aditya Chakrabortty interviewed Professor Peter Taylor-Gooby about our WelfSOC project. You can read his article here.
2016 Annual ESPAnet Conference: "The lost and the New Worlds of Welfare"
The five research teams involved in the WelfSOC project will present papers at the 2016 annual ESPAnet conference, which will take place in Rotterdam on 1-3 September 2016. These papers will be presented on Thursday 1 September, from 4.15 to 6pm and Friday 2 September from 4.30 to 6.30 in room Praag as part of Stream 20 (Innovative Methods and Attitudes to the Future of the Welfare State), convened by Peter Taylor-Gooby and Heejung Chung (University of Kent).
The papers present early research findings from the WelfSOC project, analysing data from democratic forums held in five countries. Papers can be downloaded below: